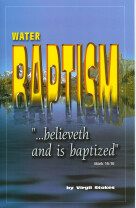 Baptism in water after we are "born again" is basic in becoming a disciple of the Lord Jesus Christ. Jesus says it is part of the disciple-making process; however, it is often an overlooked and under-appreciated sideline in many of our churches.
To the early church, believing on the Lord AND being baptized was all one act. How and why have we strayed from this important mandate?
Using history and humor, Pastor Virgil has put together this must-have study of the scriptural background and purpose for water baptism.